Free Use Pics: Click, drag & drop to desktop.
SHORT BIO:
Steve Sue is the owner of SaaS International, a consulting firm that modernizes companies through digital technologies including custom software and automation websites. He is also Chairperson of ID8 501C3, a Hawai'i nonprofit organization dedicated to fostering ideation and expression through ID8 Studios, a digital media soundstage and the producer/writer of the film "Shaka, A Story of Aloha," a documentary on the origin and meanings of the Shaka gesture. His career includes 25 years as a story expert, conceptualist, startup guy and venturer in entertainment, hospitality, food service, retail, product and software. Steve holds a BA in design from UCLA and a JD in law from UC Berkeley.
MORE…
Conceptualist: Steve's education in design and law resulted in a career as a conceptualist and "story guy" of theme parks, live entertainment productions, corporate theater, retail environments, restaurants, product brands and resort casinos.
Software Developer: In his mid-career, Autodesk provided a turning point by licensing his signature hand-drawing style for use within AutoCAD products. While helping create algorithms to mimic drawings by hand, he learned how to develop software. Soon after, he began developing software products.
Social Venturer: In 2009, Steve married his dream girl and settled in Hawai'i. Since then, Steve has created ventures from Hawai'i, including SumoSum.com, a visually-based financial forecasting application. He also has executed local projects including the rebranding of Waikiki Trolley, and the creation of ChefZone for Y. Hata & Company, Punahou School's GlobalAloha volunteerism app and a food bank app for The Pantry.
Educator: Through ID8 501C3, Steve is known as a project-based learning, creativity, innovation and entrepreneurship expert having founded Lemonade Alley (a culinary entrepreneurship challenge), Project Lemon Tree (a school tree planting program) and BizzyB.com (a project-based learning application). He also leads ID8 Studios (a digital media soundstage operated by ID8 for the State of Hawai'i) and is the producer/writer of, "Shaka, A Story of Aloha" (a documentary on the origin and meanings of the Shaka gesture).
Boards & Advisory: Steve serves on local boards, advisory groups and mentorships including Feeding Hawai'i Together, Entrepreneurs Foundation of Hawai'i, Aloha Chapter, Scouting BSA (Steve is an Eagle Scout), Blue Startups, Hawai'iloa EcosySTEM Cabinet, A'o Aloha Social Emotional Learning Collaborative, Hawai'i State Workforce Development Council and the James Campbell High School Academy Advisory Board.
<! ========= Cool Timeline Free 2.7.1 =========>
We are the sum of others: Steve's mentor math…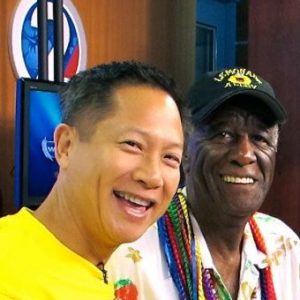 Philosophy
The Meaning of Life
Benevolence: In Hawai'i, people that are close as blood but not biologically related, are called hanai family. I'm lucky to have several hanai, including Po Chi Wu and family. Po Chi is an academic and venture capitalist. He's also pedigreed (his father was known in China as The Father of Physics). But what's most impressive about Po Chi are his philosophical powers. Whenever we're together we talk. A lot. More than imaginable. The rest of the family knows to clear out. Yet while he has great intellectual powers and deep perspective, the best part of Po Chi is that he is wise and full of love. I think of him as the Benevolent Venture Capitalist ~ kind of like a vegetarian shark. Po Chi: Thank you for sharing so much of your life force, encouraging words and most of all the love of your entire family.
Perspective: I talk frequently with my brother Alan (AJ) Sue. It's said that asking the right question is 90% of problem solving and Alan is the King of the Question. Alan and I share a love for nerding on biz. And we're both at the stage where we're trying to figure out the "Why?" of life. Despite Alan being my younger brother, I consider him to be one of my mentors. Alan: I'm proud of the rock star you've turned out to be. On the point of siblings, It would be stupid of me not to recognize my sister Linda Sue for always supporting my antics and being so caring, and my brother Larry Sue who despite hogging all the brains in the gene pool, never threw it back in our faces. All of the kids in our family are highly unique. All have different perspectives. Yet we are one. I love all you guys.
Love & Light: I thought I was well balanced until I met Karen Asato. As a swashbuckling concept guy, I thought I was pretty good on the right-brain side. But Karen pushes my hippy-dippy every day. She helps me shed shackles I don't even know are there. More importantly, she is the very essence of unconditional love. She lets me be me. That's important and deserve an encore: she lets Me Be Me. No matter how whacky my ideas might seem at the time, she lets me be me. And she stands by me through thick and thin. Together, we hold hands, spit into the wind and laugh. Karen and I both work from home. We're together 24/7. And we're entirely copacetic: no strife, no strain, all love. Karen: you are the love of my life. That may sound trite but I've never felt truly at home with anyone else. You are good through and through. I love you and everything about you. Also on the home-front, there's Mia the Dog. Yeah, you're thinking, "Really… the dog is his mentor?" Yes. Mia keeps it real. She is wise and an old spirit. I'm caught in a life as a workaholic like my Dad. I can't do enough in a day. But Mia knows priorities. Eat. Play. Poo. Snuggle. She's very powerful. She only has to look at me and I'm on the floor with her rolling around like a dog on crack. Trigger words to us are, "snackies" "walk" and "bath" ~ I like to spring the last one on her just to keep it real… Ha! Take that you little mutt! Mia keeps it real… and is the light of our lives.
Business
Innovation Mentors
The Law: My entry point to business was the study of law at UC Berkeley. The frank truth is that I sucked at the law. But two guys at the law school kept me in the game. Sandy Kadish, renowned criminal law professor taught me that the law is well-meaning. It establishes order. It is very forgiving. He had the good instincts to pull back on the socratic reins and go easy on me, a first-year pony with a gimp. As a first-year, I was on the bubble about staying in law school as I had competing offers to be an art director at a couple of computer animation companies. One went on to make a feature about Ants and the other ended up with a jumping drafting lamp logo ~ damn you Sandy, you shoulda opened that can of lawyer's whoop-ass on me as I woulda been ground floor at Pixar. But all roads lead to a bright future anyways so you're forgiven. Then there's the other guy: Jesse Choper, Dean of the School and the "God" of constitutional law. But Dean Choper was also very human. He'd occasionally sweep the library at night looking for kids to take out to eat hot dogs and talk philosophy. A Top Dog in the middle of the night on Telegraph Ave with the God of Con Law? Pretty heady stuff. He made you feel special. Smart. Seen. On campus, he called me The Artist as he knew I spent more time designing t-shirts for law reviews than doing cite checks. I was not born for the law but both of these guys embraced who I was and taught me the human side of the law.
Branding: For a number of years I was a hired gun at SF and LA agencies. At one of the firms, I met David Takiguchi, the best creative director I ever worked with. David is wickedly talented. He has great taste. He's awesome with both clients and staff. A super nice guy and Hanai family to me. Eventually he left his agency and joined me as a partner in my firm. His first action was that he wanted to change us into an "Environmental Branding Firm." I was like, "Woo-hoo! Awesome!… uh… what's branding???" It took me years to figure out what "branding" is. I owe a lot to David for bringing the world of branding to my doorstep. The challenge of understanding it was what spurred me to create the software app BizGym.com, initially a brand development software. I thank David for this, sharing his family with me and the many good times and deep friendship we share.
Bodaciousness: one of the most influential mentors in my life was Paul Steelman. Paul is a top-drawer casino architect in Las Vegas. While he's a brilliant architect and master planner, he's a business genius. He's also a silver-tongued evangelist. Paul taught me the arts of visioning ~ and selling the vision. Paul is the Pied Piper ~ he toots his pipe and everyone falls in line. He creates and executes big ideas that actually work. Pau is all about Big. Really Big. REALLY, REALLY, BIG. Iconic and bodaciously BIG. Paul's most common critique was one simple word, "BIGGER." Over the years I learned how to meet his bar. Paul is The Man and I'm eternally grateful for being able to be part of his flock.
Numbers: I first met Myron Nakata  as a client of my wife's home-based body alignment business. He'd stay on occasion for dinner and we became good friends. Myron is very understated and humble. And while he has no clue as to what "IMHO" stands for, top-used Myron-isms begin with, "In my humble opinion…" But he's the guy that walks softly and carries a big stick. Myron has raised the bar for me in strategic thinking. He thinks big ideas straight through to the numbers. He's a validator and he's practical. He's the contractor that measures twice to cut once. He does not miss. And he's also very giving and philanthropic ~ Myron was one of the founders of Lemonade Alley and Bizgenics Foundation. On the non-profit side, he works quietly behind the scenes never looking to be aggrandized. On the business side, I routinely seek his counsel for strategy, numbers and reality checks. Myron's combination of skills and perspectives renders him a practical, salt-of-the-earth kind of guy. Thanks Myron for your generous heart and for grounding my bodaciousness.
Evangelism: I grew up eating Wally Amos Cookies. Wally is the legendary talent agent turned entrepreneur who created the gourmet cookie category. Decades later, Wally became a good friend and nonprofit partner who helped build Lemonade Alley, our nonprofit's kid-biz challenge. Through the many press events we did together, Wally taught me how to evangelize and make a big impression.
Technology
Geek Speak
Software: In the late 90's, I was introduced to software development by Michael Perrani. Mike brought me to Autodesk to make AutoCAD's straight line computer drawings into hand-hewn Steve-style concept drawings. Through the process, I developed a taste for the art of software. Mike taught me that we could logically explain and create formulas for all the soft, unconscious stuff that poured out of my pens. Through him I learned that there is rhyme and reason behind everything. There is order to the world. Thanks Mike for bringing me to your world.
Macs: For years, I'd been back and forth between PCs and Macs ~ until I met John Finn. John is a motion graphics guy best known for creating fancy TV show animation intros. He's also a wickedly talented photographer. John got me into Macs once and for all. While the phones and pads are great, the real move forward was getting into graphics, photo and video features that Macs excel at. Thanks John for bringing me into the 21st century, for putting up with all my stupid questions and all the years carousing at the Foundation Room.
Web: The Internet for me is the result of a chain reaction. John Finn (noted above) introduce me to John LeBlanc. LeBlanc has a way with the Web, people and music. I'm not sure which he is most proficient at, but there's no doubt that he's a master of all. John brought me to the world of the Internet, SXSW and WordPress. He's the best example of a person who's 100% present and real. I love his style and I love him as a true friend. I'm a fan. John's girlfriend, now wife unit, Kimee Balmilero would certainly chime in here with a "Bromance…" line. OK, while true, I also look up to Kimee for her teaching me witty smarts through her improv acting techniques. Kimee is also 100% invested in the non-profit work we do together so silly girl: jettison the bromance line and get it on with a three-some snipe. BTW, I should sneak in a blurb on Lance Lew who introduced me to both Finn and LeBlanc. Quite the cascade. Lance is a connector, immensely talented and a true friend. He's been a TV guy for as long as I've known him and we've done countless events together. He can arrange flowers like all get out, is a foodie and throws the most amazing parties ever. Recently, he picked up Lemonade Alley and ran it in the SF Bay Area through NBC and YMCA. More than anything, he's 100% caring and thinks of others. Thanks Lance for thinking of us all.
Performance
I'll Always Love a Good Show
Events: Oakland homee John Murray runs a slammin' production house. We've done countless shows together from fashion, to galas, to music, to parades, to ice shows, to pageants. With John, I learned the art of the live show and that live production never goes exactly as planned. He taught me how to remain cool and improvise quick solutions when things melt down. John has style and swagger. I thank him for sharing his wisdom and so many good times.
Voice: at one point in my career, I was doing so much scenic design that I thought I should learn a bit about the performance side. So I enrolled in Samantha Paris' voice acting school. I did three years with Sam and even went out on a few VO calls. I learned how to project, feel, physicalize, talk in colors and most importantly, share as a person. Thx Sam for making me and so many others a better people.
Actors et. al: I once did a show that required rounding up a bunch of actors. At the time, all roads lead to James Hong, character actor extraordinaire and Godfather of Asian actors. Aside from delivering the talent, James ended took me under his wing. We had many whacky adventures together and I consider him and his family Hanai. He taught me about being big and being open. Another LA clan that included me as their own is Debi G___'s family. Thanks to all you guys for teaching me how to tell a story and that The Industry isn't just full of bozos. And in recent years, thanks to my partner in many crimes, Kimee Balmilero who has made me sweat in her improv acting and comedy classes. Kimee is truly a special talent, but more importantly a huge heart. She and now husband John LeBlanc (see my notes on Tech Mentorship) have been there every step of the way through our nonprofit works like Lemonade Alley.
Art & Design
Design Thinkers
Color Theory: Celebrated color theorist Vasa Mihich pulled me from the muck of econ majors at UCLA. I took Vasa's class on a whim and he took me under his wing. Vasa told me I had to be a designer. He asserted that I had talent. I knew he was right. I baulked at first as my Dad wanted me to avoid design. Vasa said he'd talk to my Dad. He didn't need to… he had me from the first color swatch.
Glass Blowing: once in the design program at UCLA, folk art glass blower Dick Marquis recruited me. He was one of the coolest cats on campus. His critiques featured beer. To a 20 year old, there's nothing cooler. He taught us that anything we'd do in art had been done before. As a corollary, he taught that if you gotta knock off someone else, be damned sure you're copying something good. Despite all his unfiltered teachings, he's truly a wizard of putting a new twist on an old theme. He taught how to make something your own yet honor those who came before.
Computer Animation: one of the guys behind the first feature-length CG film Tron the Movie was Art Durinski. Art took me under his wing and taught me CG basics (when the entire industry was really basic) then hooked me up with Larry Lichten, a professor at UCLA's Engineering School. Larry scammed me night time access on the school's mainframe computer… a computer the size of a bus. At the time, it was powerful and I drove it with a lead foot. Larry instructed me that if I crashed it, I needed to immediately shut off the lights for an hour, be quite and don't answer any messages on the console. I sat in the dark a lot but created things no one had ever done before.
Theme Parks: I lived in Burbank for about a year and a half designing theme parks for Landmark Entertainment. While many creative gurus walked the halls there, my hero was Greg Damron. Greg taught me the business of theme parks and the art of master planning. He taught to always look at how design changes affect revenues. He taught to design in the "Kodak Moment" where visitors could get that great branded picture (now called "selfies"). He taught me to always ensure that the "Cow Catcher" retail store was positioned to push plush toy sales. I worked with him on a park called The Wonderful World of Oz ~ despite being a huge entertainment property and being funded by Ted Turner and Michael Jackson, it didn't happen… welcome to concept design.
Concept Design: One day I saw this guy drawing massive pictures of mega-resorts… I had to do it. So I asked Bill Bardsley if he would teach me how to draw. Bill graciously invited me to hang out with him at his studio in Walnut Creek, CA. He not only taught me to draw, but also the art of the big idea. No one was bigger than Bill. And it turned out that Bill was THE top guy for Vegas casino concepts. He was The Shit. After a year or so, Bill started taking me to Vegas on design charrettes (brainstorm sessions). We designed by day and clubbed by night. We imagined and built massive stuff. In the early days, the architectural world looked down upon gaming projects. But as Vegas grew, it became the epicenter of hospitality and entertainment design. Bill warned me that when the industry heated up, it would be like a bucking broncho. With youthful vigor, I bucked up and jumped on. What a ride. After a couple years in the Vegas saddle with Bill, he retired leaving me with the reigns of power ~ then I learned true power for our client and friend Paul Steelman… but he's more of a Business God to me, so see that section above…. Back on being a top drawer conceptualist, Bill taught me to never go on salary: idea guys are like golden gooses ~ try to shackle them and their gold globes turn to simple brown poop. Bill, you're a God and I miss adventuring with you.
Life Basics
Steve Shapers
Love: My mom, Darlene Sue taught me how to love, live and give. Since my dad was a super-hard worker, she was the one to teach me sports and how to be a boy. She taught me how to compete (we played doubles tennis tourneys). And how to be a good sport. She was frugal beyond being Chinese so I learned the art of getting by on less. She taught me how to smile and get smiles out of others. Mom was a star of stars. You're the best Mom and I love you.
Determination: My pop, John Sue was a landscape architect turned contractor turned real estate developer. He taught me grindstone determination and perseverance. He taught me how to be an entrepreneur. He taught me the meaning of "GSD" decades before it became a popular saying. Every time I win, I think, "This one's for you Dad." Now that I'm sort of grown up, I see I've turned into him in many ways. SCARY! But I don't hate the result. Thanks for the hard love Dad. I love you.
Differentiation: My 3rd & 4th grade teachers, Mrs. Thompson & Mrs. Selby encouraged me to blossom in the arts at the expense of compromised STEM and 3Rs. I eventually caught up on all that stuff years later. But supporting my unique qualities was a risk and therefore an amazing thing for them to do. I doubt that modern-day teachers would take on the liability of such backing. But so far, I haven't chainsawed anyone yet, so I think their strategy has a chance of working out.
Connecting: My Boy Scout leader Greg Hyde was just "Greg" to all of us. I take that with me today having the kids call me "Mr. Steve" rather than Mr. Sue. Like Greg, I aspire to connect like him. He was a rock star. And he was a consummate outdoorsman. Through him, I learned how to see nature, tie knots, be resourceful and survive. Thanks Greg for belaying me up the first pitch of life.
Just take your time. Let the others go… then catch the big one."
~ Duke Kahanamoku, Legendary Surfer
Ideas. Stories. Social Venturing.